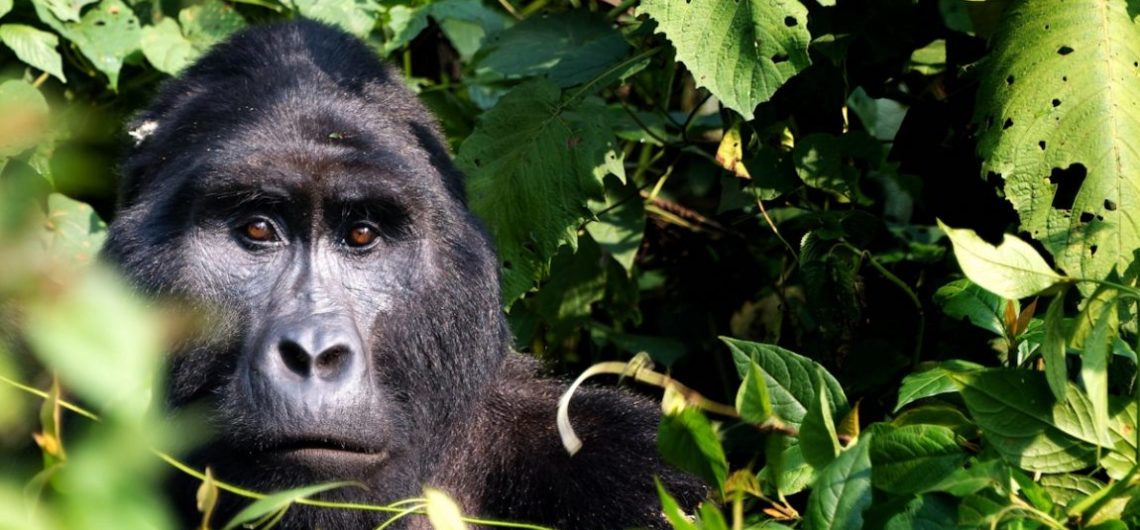 Bwindi Impenetrable Forest National Park is located in southwestern Uganda. It is best known for its Africa Gorilla Tours.  With less than 900 gorillas found in the world, half of this number is found in Uganda's Bwindi Park.  Bwindi was declared by the government of Uganda as a National Park in 1992; however, in 1994 it was internationally declared a World Heritage Site. The cold Bwindi weather is reason why we recommend all our clients to always carry a warm sweater and a rain jacket as some of the preferred clothes to wear for gorilla trekking. The park covers a land area of 327 sq km and it's primarily dominated by the thick Bwindi forest comprises of bamboo shoots which are the gorillas' favorite food.
Taking a 3 Days Gorilla Trekking Uganda Safari, will offer you an opportunity to come face to face with these amazing giants. However, some to note is that besides gorillas, there several other animals, other primate species and birds living there
Best time to Visit | Bwindi Weather
Although the park can be visited all year round, for a more rewarding gorilla viewing adventure we recommend that you visit during the dry months of the year when the terrain is less challenge to explore. Although it is generally a cold place and it can rain any time, the park receives the heaviest rains in March, April, May, September, October and November.
During the dry months (peak Season) the demand of tourists to visit the gorillas is very high so we normally advise our clients to book at least 4 months before their desired dates of seeing the mountain gorillas to enable us reserve and guarantee availability of trekking permits on your desired dates.
Mountain Gorilla Trekking, Gorilla Tours
This is the leading tourist activity within the park and its conducted within the thick forests of Bwindi. During this amazing activity, tourists get a chance to look for these hairy giants within their natural habitat and bring them face to face with the gorillas. Trekking is done in groups of eight people and every person is required to have a Gorilla Trekking Permit. Although there are several gorilla groups in Bwindi, visitors are only allowed to visit the habituated families. And below are some of the Habituated Bwindi Gorilla Groups.
The Mubare group ('M' group) which was opened in 1993 for tourism-activities
The Nkuringo group ('N' group) which was opened in 2004 for tourism-activities
The Habinyanja group ('H' group) which was opened in 1998 for tourism-activities
The Rushegura group ('R' group) which was opened in 2002 for tourism-activities
Please Remember: due to the extremely high demand for these trekking permits it is recommended that you make your safari booking at least 4months earlier so as to guarantee availability of gorilla permits on your desired day of trekking.
Bwindi Wildlife
Among the wildlife found in this high altitude national park are: over 300 butterfly species, 50 reptile species, 200 tree species, 120 mammal species and ten primate species among which are: mountain gorillas, L'Hoest's,  baboons, red tailed monkeys, black and white colobus monkeys and the blue monkeys. There is a great profusion of birds with a bird list of approximately 350 different bird species  among which are 90% of the Albertine Rift endemics including a couple of species on the IUCN red list.
The Batwa Cultural Experience
The human settlement living closest to this national park is of the Batwa pygmies. While in Bwindi you will have an opportunity to take part in the optional Batwa cultural experience during which you will interact with these people and also enjoy some traditional entertainment of music dance and drama. Learning about the conservative ways of life of these native people is not only an educative experience but exciting as well – see how these people entirely depend on this forest for survival. You will visit their traditional homesteads, the local beer-brewery, the traditional healer and a couple of their community development projects.
Bwindi Tourist Areas
The Buhoma Area
This is the busiest center in Bwindi and its located within the northern section of the park. Gorilla trekking in this area begins here, and also there are many different accommodations of different budgets in this area. Additional activities including primate watching, birding and nature walsk all commence from here each day at 9:00am.
Nkuringo Area
Found on the deserted Nteko Ridge this area offers beautiful views of the verdant forest as well as distant Virunga volcanoes in the south. Also gorilla trekking safaris in this area begin here just as community walks to the traditional healer, local blacksmith, traditional homesteads and brewers.
Ruhija Area
This is another starting point for gorilla trekking in this area. additional activities here include birding and primate watching.
Bwindi Accommodation
There are several different Accommodations in and around this national park ranging from the super luxury, mid-range and budget facilities.
How to Get to Bwindi Park
Bwindi Park can be reached by either air transport or road transport.
By Air Transport There are flights from Kajjansi airfield and Entebbe airport to the different airstips located near Bwindi NP such as Kihihi, Kayonza as well as Kisoro airstrip.
By Road: there are several different routes leading to Bwindi park just as highlighted below.
Kampala-Kabale-Nkuringo Route: this begins in Kampala to Kabale then follows a 4 hour drive to Nkuringo. You may choose to spend a night in the town of Kisoro located 80 kilometers from Kabale.
Kampala-Masaka – Kabale- Buhoma Route: this begins in Kampala to Kabale, through Kanungu and Kanyantoro.
Kampala- Rukungiri – Kihihi-Buhoma Route: this route is the most commonly used. It begins in Kampala to Rukungiri, and then connects to Buhoma.
From Queen Elizabeth National Park, Fort Portal, or Kasese: for those connecting from those areas you can use the Katunguru-Ishasha-Kihihi route (3 to 5 hours). Alternative use Mbarara road up to Ishasha, turn right to Kabale, through Kagamba and connect to Ntungamo–Rukungiri-road.