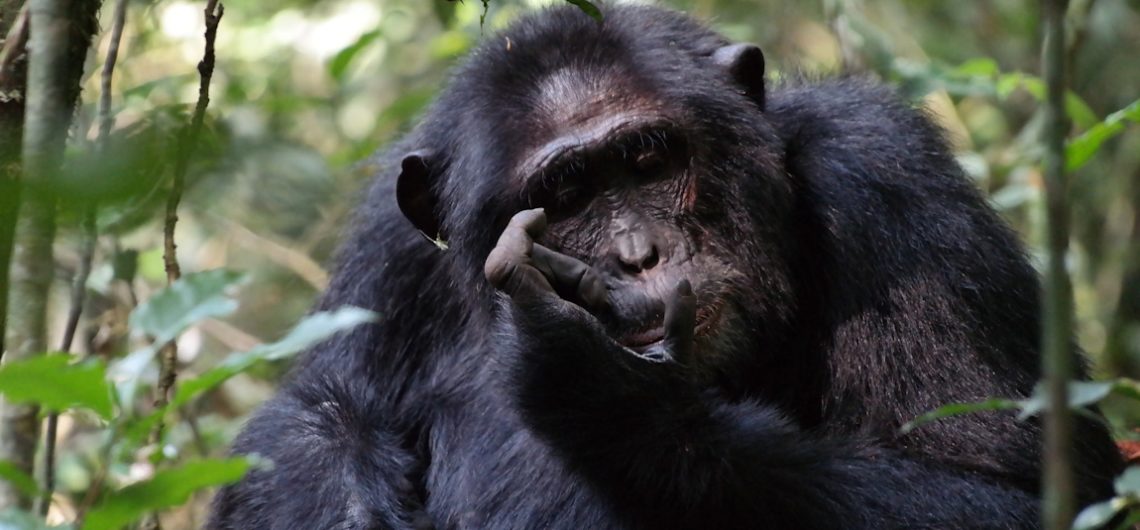 Kibale National Park located in western Uganda, within Kabarole District, covers a total area of 795 sq km supports one of the most gorgeous and greatly diversified tropical forests in Uganda. It also offers habitat to a number of wildlife species including thirteen (13) different primate species among which are the lovable chimpanzees.
The park's northern and central areas are dominated by the Kibale Forest that lies on the high altitude Fort-Portal Plateau, with the highest area elevated at 1590 meter above sea level being in the northern part of the park. It is best known for its exciting Chimpanzee Tracking Safaris that are conducted on a daily basis within the park
Primates Living in Kibale National Park
In the whole of Africa, Kibale National Park offers habitat to the biggest number as well as highest variety of primates. There are 13 different types of primate that have been recorded here; although the most popular of these are the chimpanzees; man's living closest relative. About 1450 chimpanzees live inside this park, together with the biggest population of the red colobus and L'Hoest monkeys in the entire East African region. This park is the best place to enjoy a Chimpanzee Trekking Safari in Uganda. Additional primates found in this park are: bush babies, grey-cheeked mangabey, potto, olive baboon, black & white colobus, red-tailed monkeys, and blue monkeys.
Other Animals in Kibale National Park
That park offers habitat to over 70 types of mammals including duikers, bush pigs, elephants, leopards, buffaloes and warthogs; however it's somewhat difficult to see them since the forest is thick. There are also over 200 types of butterflies.
Chimpanzee tracking in Kibale National Park
Chimpanzee tracking Safaris within Kibale forest commence at the Kanyanchu Visitor Centre by 8.00am as well as in the afternoon by 15.00pm and they take 2-3 hours. For visitors that take Safaris in Uganda, Chimpanzees are some of the most asked for primates; however, there are other types of primates that you could see in this forest including the red tailed colobus monkeys, black & white colobus monkeys and the grey cheeked mangabey. During your search for the chimps in the forest, you will see several bird species plus different trees a number of which are used by the locals as medicinal herbs.
Chimpanzee tracking is carried out in groups of six (6) people; which implies that the number of chimpanzee trekking permits on high demand so this necessitates that you reserve this safari ahead of time.
What to see and Do in Kibale national park
Chimpanzee Habituation Experience
Chimpanzee Habituation is a process during which habituators  in the park as well as researchers follow the chimpanzees starting early morning when the chimps leave their night's nests, follow them the entire day as they do their daily activities including feeding, playing as well as taking care of each other until in the evening when they make their nests for the night. This is all done to familiarize chimpanzees to human presence.
During this unique experience, visitors will get a chance to join the habituating team very early in morning (around 6:00am before the de-nesting and end at around 7:00pm when they have made new nests.
Chimpanzee Habituation is mainly conducted in the months of November, March, April and May when the tourist season is low.
Birds within Kibale National Park
The park has over 372 bird species and among the commonly seen are:  the African Grey Parrots, Black-eared Ground Thrush, Blue-breasted Kingfisher, African Pitta, Abyssinian Ground-thrush, Black-capped Apalis, Green-breasted Pitta, Brown-chested Alethe, Little Green Bul, Blue-headed Sunbird, , Purple-breasted Sunbird, Afep Pigeon, Little Greenbul, Yellow Spotted Nicator, Collared Apalis, White-naped Pigeon, Yellow-rumped Tinkerbird, Red-faced Woodland Warbler, Black Bee-eater, Western Nicator, Dusky Crimsonwing, Scaly-breasted Illadopsis  Brown Illadopsis, Red-chested Owlet as well as the Crowned Eagleand.
Forest Hike in Kibale National Park
The park offers a 12 kilometer nature  hike that is only conducted during the dry months from mid-November up to February and then from June up to September. On this hike you will traverse different wildlife habitats including swamps, tropical rainforest, grasslands plus the riverine forest.  You will also get a chance to see many different bird species, primates, duikers plus bush bucks. This walk commences at the Visitor's Centre at Kanyanchu early morning at 8.00am as well as in the afternoon at 2:00pm while the elephants wallow. Don't forget to carry bring along drinking water plus some snacks.
Sebitoli Forest Walk
Sebitoli forest is located 12 kilometers from Fort portal town along Kampala-Fort Portal main-road. During this walk you will have an opportunity to see various birds plus different primates.
Nature Walk Bigodi Wetland Sanctuary
The Bigodi wetland sanctuary is located right after the park's boundary in the Magombe swamp. several tourists frequently visit this wetland to see the large  number and diversity of wildlife residing there including: over 130 bird species, different primates such as chimpanzees, the red colobus monkeys plus the black and white colobus monkey in addition to other types of animals including mongeese, bushbucks and sitatunga. To best explore this wetland we recommend you take a nature walk through the trails.  This walk is a project managed by the local community and its geared to safeguard the great biodiversity of this wetland area.
The weather in Kibale National Park
This National park generally experiences a nice climate with average temperatures being at a minimum of 14°C and maximum of 27°C. It has two wet season starting on March to May  and the other starting in September to November annually. It receives an average of 700mm of rainfall annually.
The low laying southern area of the park has a generally dropping terrain that touches the floor of the rift valley, and it experiences the least amount of rainfalls as well as very high temperatures.
This southern part of the Park joins the adjacent Queen Elizabeth National Park, to form a wildlife migration corridor which stretches over 180 kilometers from the southern Ishasha area in Queen Elizabeth Park to Kibale's Sebitoli forest.
How to get to Kibale National Park
The main trailhead for the different tourist activities is at Kanyanchu River Camp. This can be reached from Kampala by road. The shorter route goes from kampala-Mubende- Fort portal on tarmac covering 300km while the remaining 36 kilometer distance to Kanyanchu is on murram.
Sebitoli Forest Camp- is another tourism centre that is accessed by road following Kampala-Fort Portal highway. Also there is readily available Public transport serving Kampala to Fort Portal through Sebitoli or going through Fort Portal via Kanyanchu to Kamwenge.
Accommodation in Kibale National Park
You will find several accommodation facilities around and inside the park including luxury, moderate and budget facilities, and among these are: the Luxury Kabale Primate Lodge, Ndali Lodge, Sebitoli basic cottages and Chimpanzee Guesthouse.